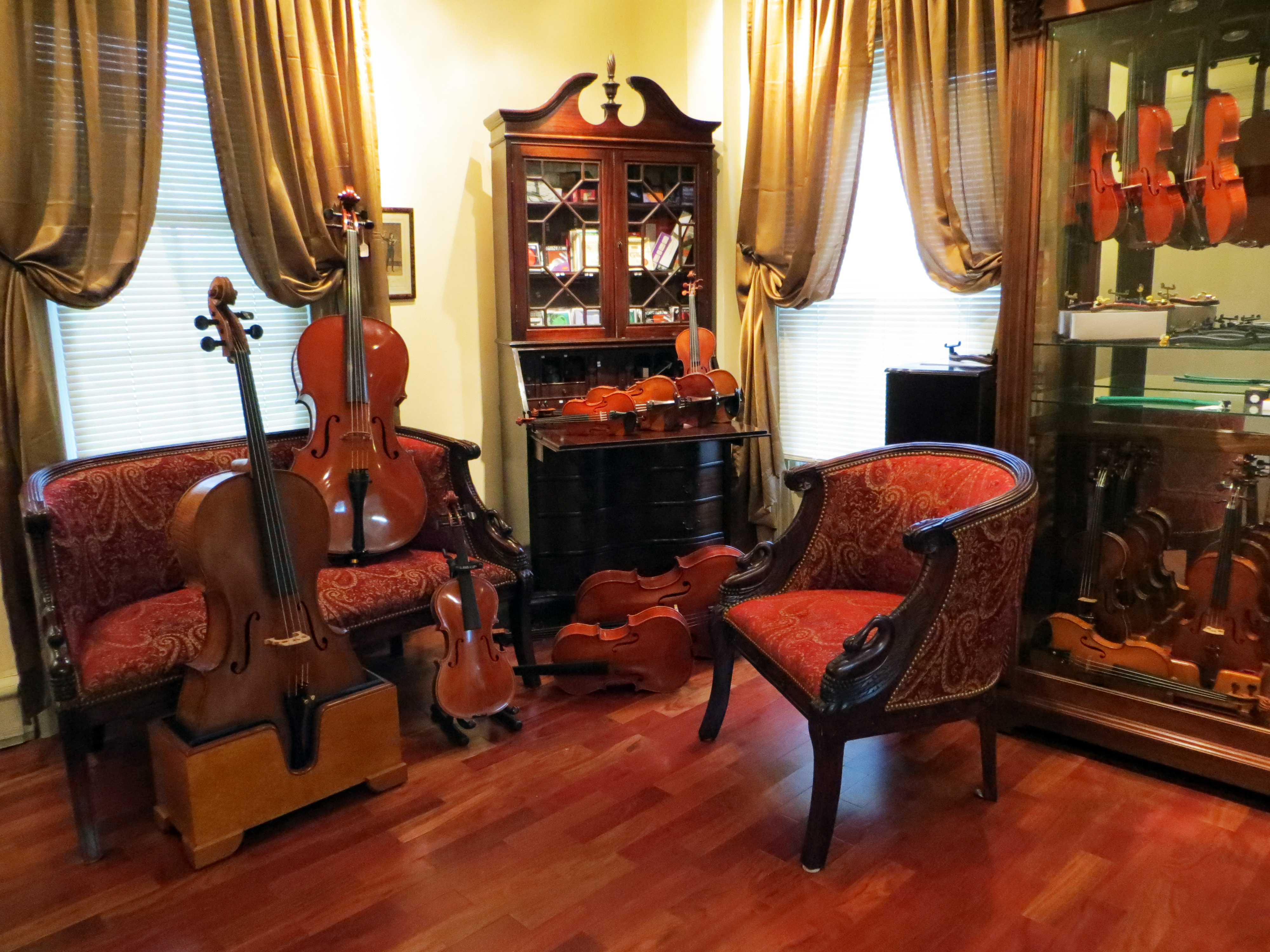 Princeton Violins was founded in 2002 by violinist and violin restorer Jarek Powichrowski. We specialize in the restoration and sales of antique and vintage violins, violas, cellos and their bows. Our attention to detail with each violin is noticed and appreciated by our clients, causing our business to continuously expand. In the last ten years, we have searched through thousands of violins in order to find mere hundreds worth perfecting and selling.
Jarek Powichrowski received two master of music degrees; one from the Chopin Academy of Music in Warsaw, one in violin performance from Mannes College and completed professional studies at Juilliard. He has performed around the world with various orchestras and has two recordings as a solo violinist. He studied violin making in Cremona, Italy, with a master violin maker where he completed his violin and at the same time becoming friends with many excellent makers of our time. All of these experiences enables Princeton Violins to better serve you, especially for the demands of a professional instrument.
At Princeton Violins, we pride ourselves in the placement of our instruments, striving for happy musicians of all levels. On this website, you will find instruments of all sizes for sale, ranging from student to professional in quality. Not only do we deal in the instruments and bows themselves, but also have a variety of strings and accessories available for purchase.
Our Work
We are a very small company, with a close knit team of instrument restorers. Many of these instruments are vintage or antique and so require extensive restorations. Most of our collection consists of instruments with brand new fixtures, new finger boards and new bridges. After all of this work is completed, our owner dedicates yet another few hours adjusting the sound on each instrument, which has become his specialty. Here at Princeton Violins, we have found that this acute attention to detail and precision work on each individual instrument greatly enhances the quality of our collection and the satisfaction of our customers.
Policies
We stand behind our work, with an extensive and flexible fourteen day return policy, no questions asked and a 100% credit trade-in policy for an instrument of higher value in our collection, should you decide that it is time for a new instrument. Any work or parts needed for the instrument are guaranteed for one year after purchase, excluding strings.
Our Mission
At Princeton Violins, we understand that the process of purchasing an instrument can be overwhelming; we would like to offer our knowledge to anyone in need of information. We have many instruments, and not all are always listed online. If you have something specific in mind or do not see what you are looking for on our site, please feel free to contact us. We strive for happy customers, and find great satisfaction in pairing a musician with their perfect match. If you are in search of the right instrument or bow, either for you or your child, we are here to help.