Posted by Princeton Violins on 11th May 2023
On a rainy afternoon of April 15, 2023 Princeton Violins presented Masterclass with violinist ERIC WYRICK, the concertmaster of the New Jersey Symphony. The Masterclass was the first of the series, organized to celebrate local talented musicians and commemorate the 10th anniversary of opening of the Princeton Violins store in the greater Princeton area. The event was free of charge and open to students from all schools, orchestras and private teachers.
The participants of the Masterclass were selected by Maestro Eric Wyrick from a group of candidates who have previously submitted their video recordings. They were of different ages and different stages of their violin studying journey. Maestro generously coached each of them while the storm outside was offering special sound and light effects. Nevertheless the great acoustics of the Scheide Hall at the Princeton Theological Seminary provided perfect opportunity for many of the featured violins to fully flourish.
The featured young violinists played both solo and excerpts of orchestral repertoire. Maestro Wyrick was right on spot in evaluating each of their greatest needs to help improve the current repertoire as well as addressing techniques that could be improved by many violin students in general. Mentioned in this masterclass were: importance of slow practicing, universal use and different types of Martelé bowstroke, value of repetitions in practicing, importance of good posture and its influence on bow techniques, strategic use of bow among many other topics. All students were quick to apply these suggestions and improved their playing.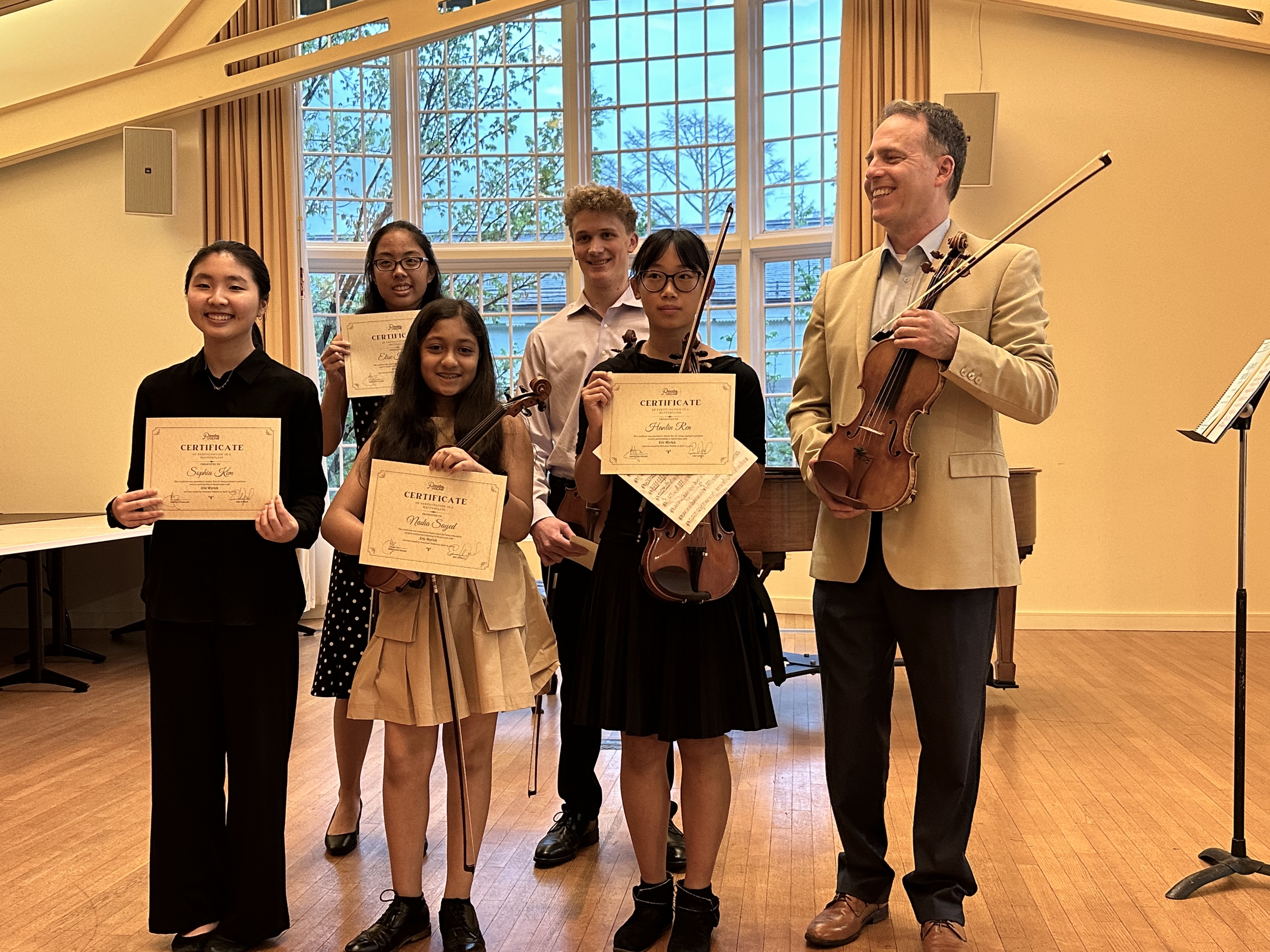 From left to right: Sophia Kim, Elise Hwang, Nadia Sayed, Henry Rogers, Hanlin Ren and Eric Wyrick
The first performer was Nadia Sayed, student of Alex Shiozaki who chose to play Vivace from the Concerto for Two Violins in D minor by J.S. Bach as her solo and an excerpt from Mozart's Symphony No. 25.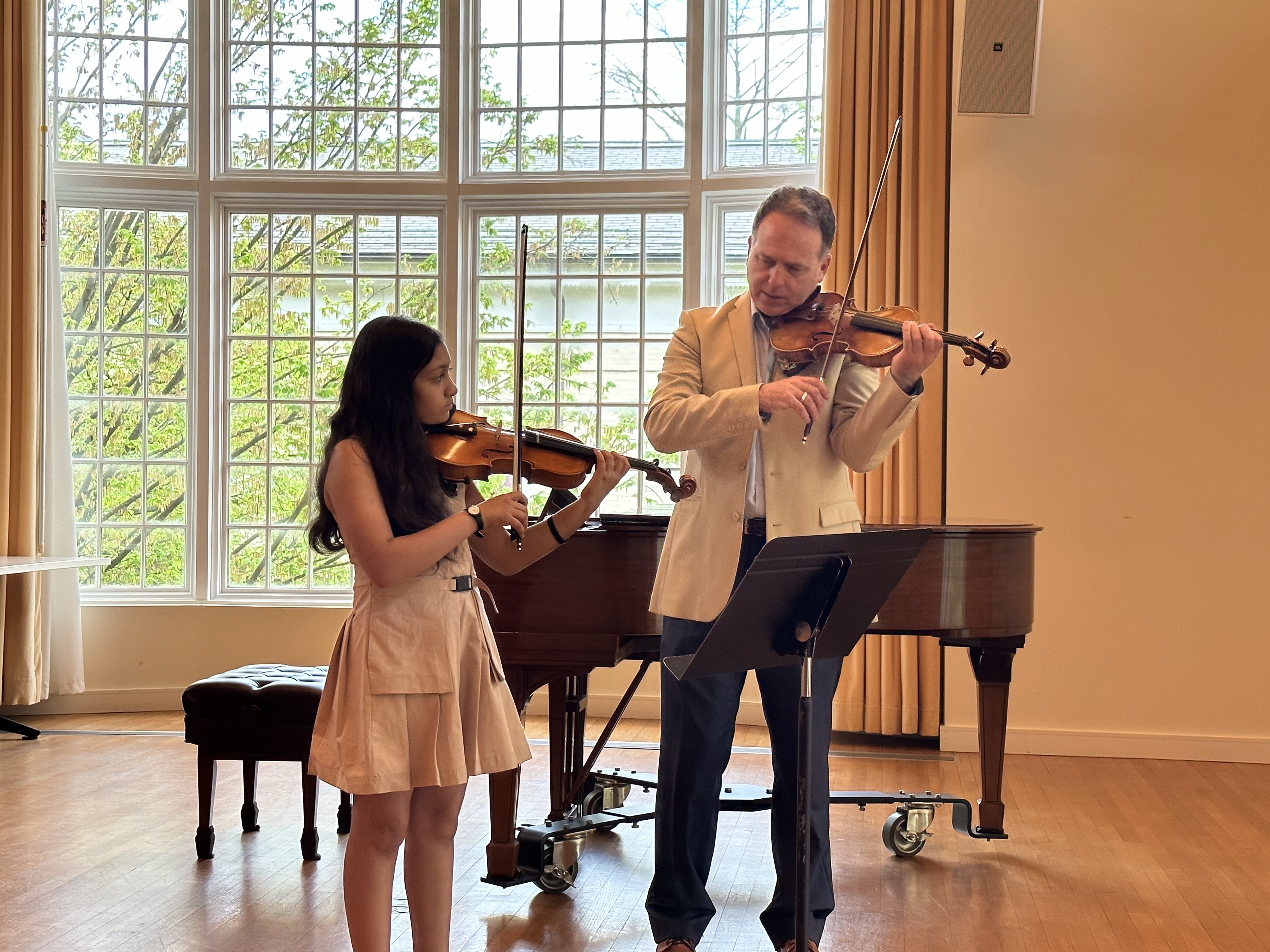 Here is Nadia Sayed working with Maestro Wyrick
The second performer was Hanlin Ren, student of Lishan Liu and she chose to work on an orchestra excerpt from Ludwig van Beethoven's Fidelio Overture, Op. 72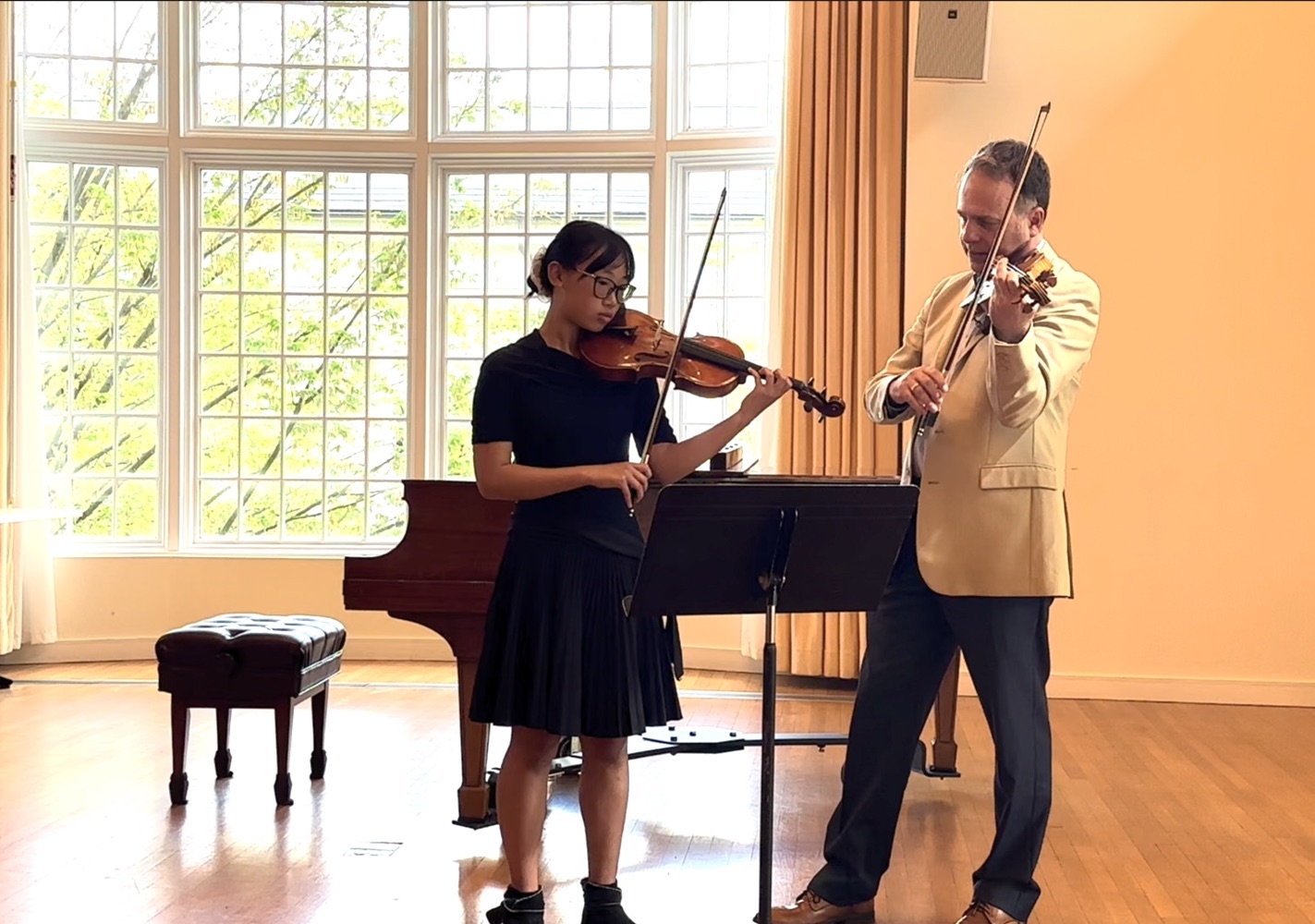 Sophia Kim, who is a student of Takuya Horiuchi and attends West Windsor- Plainsboro High School South prepared Concerto in E minor, Op. 64, 1st movement by Felix Mendelssohn as well as excerpt from W. A. Mozart's Symphony No. 39, Finale.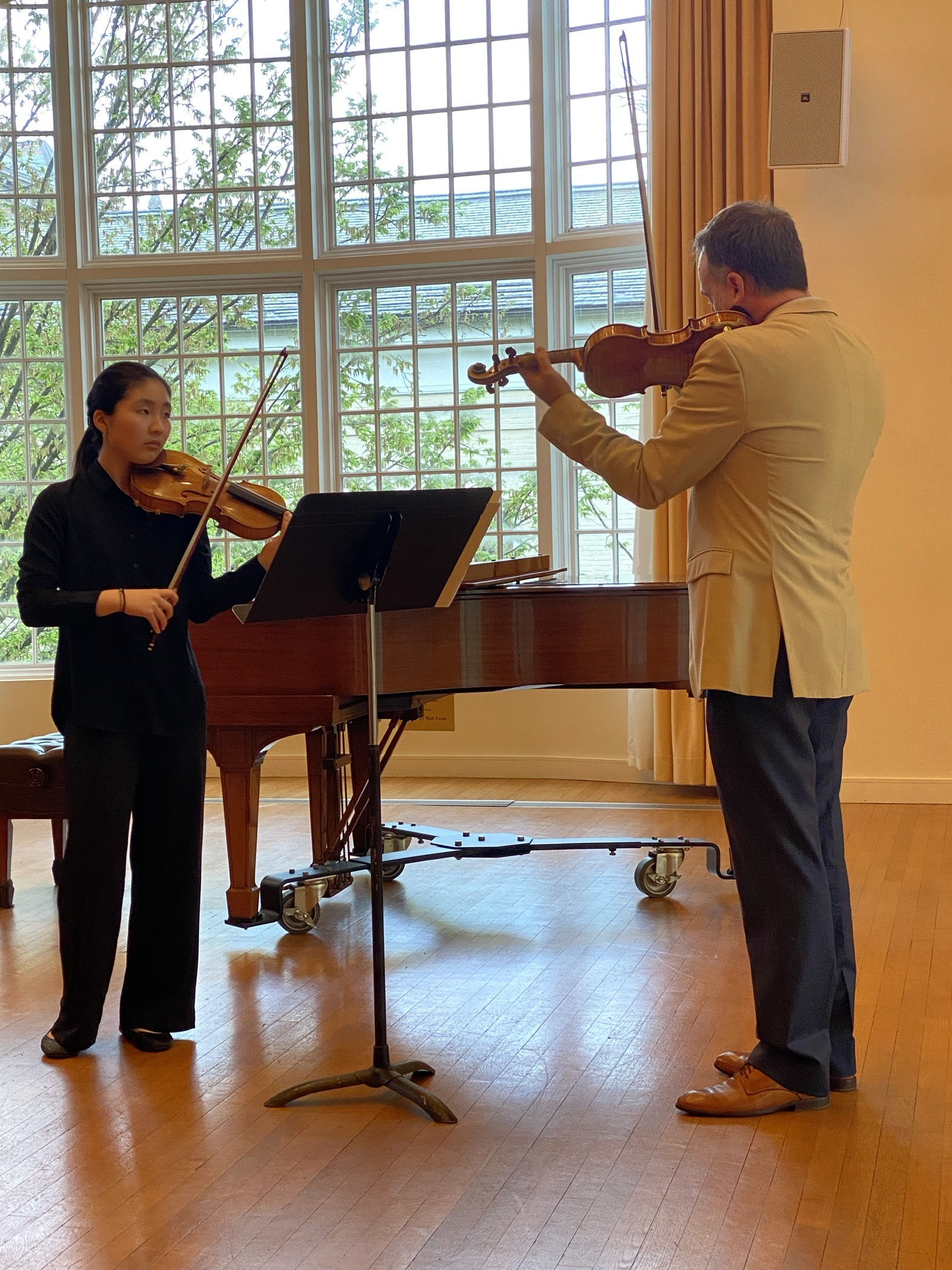 The next performer - Elise Hwang, student of Nancy Wilson worked on a third movement of Felix Mendelssohn's Violin Concerto in E minor, Op 64.
And here is Elise working with Maestro Wyrick on an excerpt from Symphony Fantastique, Op. 14 by Hector Berlioz
Henry Rogers who is currently a student of Joel Smirnoff at the Juilliard School chose to present Gavotte and Rondeau from Partita No. 3 in E Major by J. S. Bach as well as an excerpt from "Don Juan" by Richard Strauss.
We had some weather related special effects, but that did not bother anyone, especially Henry Rogers who was performing one of the hardest orchestral excerpts from "Don Juan"!
Here is more footage from coaching "Don Juan" by Maestro Wyrick with Henry Rogers
And here is Eric Wyrick, Henry Rogers and the owner of Princeton Violins Jarek Powichrowski who organized the whole event.
We would like to thank Maestro Eric Wyrick for sharing his great talent, experience and wisdom with all the aspiring violinists.
We are grateful to all the participants and very supportive audience. We invite you to the next masterclass on May 20, 2023. Please check our website often for updates on upcoming events and share with your friends who might find it beneficial. Hope to see you all soon!
Princeton Violins